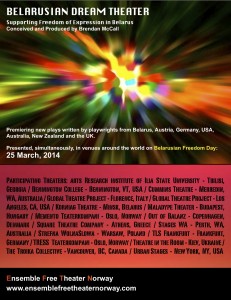 The Global Theatre Project was proud to participate in this international initiative to bring attention to what is happening in Belarus.
We inaugurated our work by supporting Belarus Free Theatre's efforts to put a spotlight on the human rights infringements of their nation.  We maintain a continued commitment to our colleagues.
The Global Theatre Project created events in our two home cities: Los Angeles and Florence, Italy.
In Florence we involved our university-aged students of Creative Campus Global Initiative who participated with our professionals in performance, event management and visual arts presentations.  In Los Angeles, our Creative Corps students from Eagle Rock High School and Roosevelt High School of over 80 students created visual art and media to compliment the event which took place on March 25th.   If you have a desire to receive more information about the event and Belarus, please contact us at info@theglobaltheatreproject.org.
Los Angeles event
Directed by: Doug Tompos
Time: 8pm
Location: Boston Court Performing Arts Center
Florence event
Directed by: Bari Hochwald
Time: 21.00
Location: Sale Vetrate/SUC alle Murate