March 25 2014
17 theatres around the globe brought attention to the country of Belarus and the question of societal censorship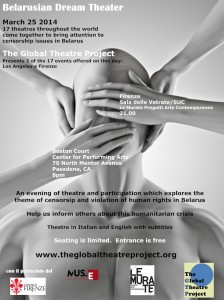 The Global Theatre Project with the patronage of the Assessore di Cultura of the city of Florence held an evening of theatre, inquiry and discussion with performances of original works written by international playwrights to bring attention to the situation in Belarus. The event took place at la Sala delle Vetrate, piazza delle Murate, Florence.
Belarus is considered 'the last dictatorship in Europe' where people 'disappear' every year.  Although the world political leaders have mostly ignored the human rights and censorship issues, the artists have taken up the call to bring attention to this situation by educating as many people as possible with multiple international events on March 25th.
The Global Theatre Project (The GTP) offered two events in this global initiative with a direct link between the Florence evening and our event in Los Angeles.
This event involved the whole city: artists, intellectuals, residents, Italian and foreign students with professional actors who were at the center of the performance.
Prior to the event we screened a film that shared information on the situation in Belarus at an event in collaboration with the local chapter of Amnesty International.
The play was presented in both Italian and English with subtitles in both languages.
To learn more about Belarus' history and the issues, please click here.
To learn about the human rights infringements recorded by Amnesty International click here.
Belarusian Dream Theater:
Produced and Directed by: Bari Hochwald
Music written and performed by: Andrea Cagnola
Cast: Riccardo Bono, Rosario Campisi, Ilaria Filipponi, Carolina Gamini, Ornella Grassi, Alessandro Grisolini, Bernard Vandall (more to be announced)
Plays Written By:
With Own Eyes: Tatiana Tutejshaya, translation from Belarussian by: Regina Brandobovksaya
Under Protest: David Williams
See Him?: Jacob Juntunen
Portraits: Jez Broome
Article 119-1: Aurin Squire
Alena's Boy: Anna J. Rogers