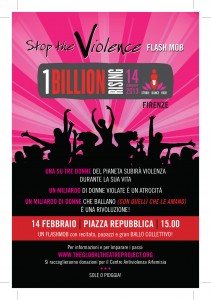 Una su tre donne del pianeta subirà violenza durante la sua vita.
Un miliardo di donne violate è un atrocità.
Un miliardo di donne che ballano (CON QUELLI CHE LE AMANO) è una RIVOLUZIONE!
 Iniziativa Creative Campus di The Global Theatre Project è orgogliosa di partecipare al movimento globale per porre fine alla violenza contro le donne . . . One Billion Rising! (sito Italiano)

Guardate qui il video dell'evento che si è tenuto alle ore 15 del 14 febbraio in piazza della Repubblica:
Il progetto Creative Campus de The Global Theatre lavorerà ogni anno con V-Day International usando mezzi creativi ed educativi per portare maggior attenzione alla violenza contro le donne e le ragazze. Sosteniamo a Firenze il lavoro del Centro Antiviolenza Artemisia.
Per aggiungervi alla mailing list per avere ulteriori informazioni sui prossimi progetti V-day a Firenze: info@theglobaltheatreproject.org