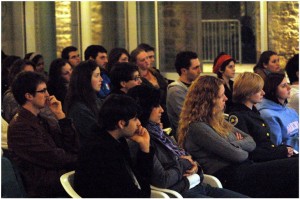 The Global Theatre Project offers many opportunities to university students to develop their creative potential and connection to the community through the arts.  Through our local and global initiatives and our educational programming, The Global Theatre Project strives constantly to explore and define the question of how artists and artistic endeavors benefit the diverse societies in which we live.  And how we all can come to intimately understand the wealth and challenges of being global citizens.
Currently we are in the final stages of planning a unique educational opportunity for serious students of theatre, The GTP Institute.  If you are a student of the theatre arts and are considering studying abroad beginning in 2017, we invite you to send us an email.  We will put you on a list to receive information when the program is ready to launch.  For more information please click here or contact us at info@theglobaltheatreproject.org
The Global Theatre Project can travel to create projects with students on their home campuses which are designed to connect the students and community members to relevant issues.  For more information university educators and administrators are invited to please contact our Artistic Director at: bhochwald@theglobaltheatreproject.org
If you are a student studying abroad at any program in Florence we invite you to explore the opportunities we offer through our Creative Campus Program.
If you are an educator coming to Florence with a group of students and would like to involve your students in an aspect of The Global Theatre Project, please contact us at info@theglobaltheatreproject.org