To stay updated on all upcoming projects and opportunities please  join our mailing list or to support us please make a donation.
In Development 2015-2016: 
Meet Mr. Shakespeare – The Bard As Global Citizen
For four years The Global Theatre Project has participated in celebrating  the brilliance of William Shakespeare with our friends in Stratford-Upon-Avon, England.  The most recent project found us exploring the question 'What Is Our Part?' with the young artists of Actors For Autism.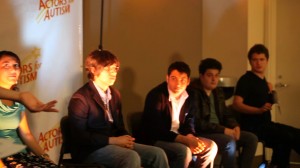 'What Is Our Part' used Jacque's speech in Act II Scene VII of 'As You Like It' as inspiration leading to discussion of issues relating to global citizenship, exploration of meaning and expression of Shakespeare's words and final performances for friends and family.  The event was filmed and the edited version of the film was shown in Stratford, England as a part of their birthday celebrations for the Bard's 449th birthday.  But if you missed the celebrations in England, you can simply click below!
We also invite you to click the video of last season's 'Rapping On The Tempest.'  We 'rapped' on Prospero's speech from 'The Tempest' in collaboration with the Heart of Los Angeles Youth. 'Rapping on The Tempest' involved 78 individuals as participants.  The project connected theatre professionals with youth and adult community members in a theatrical 'happening' which used Prospero's speech from 'The Tempest' as the inspiration. The event was filmed and shown in Stratford, England as a part of their new Shakespeare film festival in October.
Beside having a great time, the overall purpose of this annual project is three-fold:
1)      celebrate the diversity of the United States
2)      share that diversity with our friends across 'the pond'
3)      use the event as a educational opportunity to develop awareness of global citizenship.
All, of course, inspired by exploring Shakespeare's text!
To see photos from this event please visit our gallery.
If you are interested in participating in the next version, please send an email to info@theglobaltheatreproject.org with the subject line: Shakespeare!  And please let us know what language you speak so we can include it in the event.

In 2011 we sent a message of love from Los Angeles to our friends around the globe!
On the morning of April 16th at Los Angeles Theatre Center we invited theatre artists and residents of Los Angeles to celebrate our city and share our talent and diversity with the world by joining together in a group performance of a 'new' piece of theatre: the 'Double Double Sonnet Project' combining the witches scene from Macbeth with one of the most beautiful love sonnets of all time.  The event was filmed and was seen in Stratford, England as a part of their festivities on April 30th.
Although the piece was mainly performed in English we incorporated the following languages spoken by some of the communities of Los Angeles: Lebanese, Persian, Spanish, Chinese, Italian, American Sign Language, Hebrew, French, Japanese, and German.
To view the video of  The 'Double Double' Sonnet Project please click here.
Our first effort on this project in 2010 staged and filmed a nine language balcony scene of Romeo and Juliet in a palazzo in Florence, Italy.  To view 'An International Romeo and Juliet In Florence' please click here.