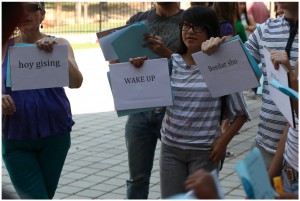 Our work with youth
In 2012 we began working with teens and children introducing the question of global citizenship by developing opportunities for them to connect to international communities and socially relevant themes through intellectual inquiry and creative expression.
We began this exciting new venture by putting our annual event, the Stratford/Shakespeare Connection working with the children at Heart of Los Angeles Youth in 2012 and, in 2013, students of Actors for Autism who deeply and sincerely explored questions of global citizenship both as Americans and young artists with disabilities.  You can read more about that project by clicking here.  And you can find the video of the event located on our video page.
MOST RECENT PROJECT: Belarusian Dream Theater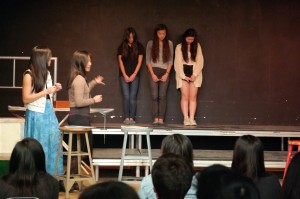 CURRENT PROJECT:
Creative Corps has been launched in response to the immigration crisis nationally and globally. With the foundational concern that we must stop immediately both the dehumanization of immigrants and the separation of families at the US border. Our contribution to this is to make available the tools and materials to inspire informed, empathetic discussion and action. This project is appropriate for high school aged students.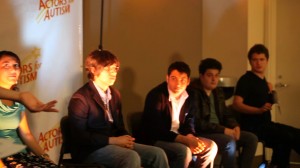 As the world becomes more globally connected, it is important for us as Americans to find ways to participate in this reality.  We owe it to our children.  They must understand that they are an essential part of the world around them.  And that they can impact that world as independent thinkers and with independent actions.  At The Global Theatre Project we hope to be a part of a conversation that defines our relationships internationally with intimate engagement, curiosity in 'the other' and the development of collaborative work which impacts our world.
"I am excited to begin the process of developing a program which empowers our youth through encouraging interest in the world around them.  It is imperative that they not only understand global issues but take a leadership role in exploring these issues and sharing their results with their peers and their community.  I know our job is to widen their lens and encourage an intellectual curiosity that is individually their own.  It seems inevitable that children be given a voice through real knowledge of their vibrant place as global citizens with a clear understanding that their impact is simply . . . necessary.  We will also make sure that communities which are not typically included in this type of opportunity be the center of our work." — Liz Fenning, Los Angeles Youth Coordinator