Baltimore!
We have made the decision to move our central office to "Charm City" with its rich history, its spirit of independence and creativity.  This decision came as a result of looking at the long-term plans and vision for The Global Theatre Project.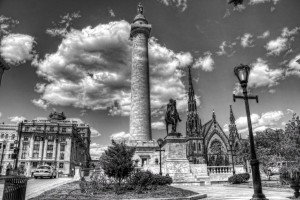 Baltimore is going through a renaissance of its own with a growing arts community and the largest number of young entrepreneurs moving to the city annually.  The theatre community alone is rich and diverse, the visual arts and music scenes are powerful.  There are an abundant number of universities in and around the city center six of which just appointed new Presidents. The city has committed to the development of three arts districts which are expanding rapidly.
Baltimore also was the second largest point of entry for immigration, which means that the population spans ethnic backgrounds offering The Global Theatre Project an opportunity to explore global issues on a local level.
Please click here to see our first project: An Explorer's Desire – Baltimore
With regards to Florence our plan of establishing The GTP Institute by summer of 2016 allows us to seek a partnership with a local university that will help to create a bridge between the communities of Florence and Baltimore.  In this way all creative and social work created by The Institute in Florence will be reshaped as community outreach projects in Baltimore.  Some of them will hold the possibility for further life outside the city.
What we intend is to create an active conversation in Baltimore which reflects the core actions of our mission:
developing opportunities for international creative engagement and collaboration
proposing questions which expand viewpoints and perspectives
highlighting social issues of local and global importance
uniting American theatre artists and youth with their international counterparts
This move is in its early stages and so we are currently seeking out new partnerships and colleagues to build The Global Theatre Project presence on the east coast.  As this develops we will bring that information here.  For now we are thrilled to begin the journey.  If you would like to become involved in any capacity please write info@theglobaltheatreproject.org