The secret of getting things done is to act!  Dante Alighieri
To stay updated on all upcoming projects and opportunities please  join our mailing list or to support us please make a donation.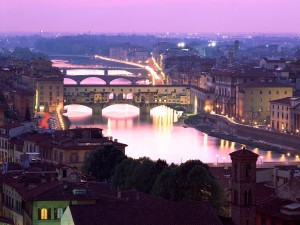 The Global Theatre Project has, through the seminal work of our Artistic Director and President, developed a creative base in Florence, Italy.
Why Florence?  Although Florence is an internationally beloved city and, arguably, one of the most beautiful in the world, it offers the opportunity to explore issues of great value to The Global Theatre Project.  If you look carefully at the city and its population you will find a city which reflects current challenges and opportunities which include questions of immigration and the obstacles of multi-cultural and religious communities living together.
In addition, at its heart, Florence is a small town.  This 'small town' is traveled to annually by thousands of US students who study within its center and have been doing so for over 50 years.  They make a significant impact on the city.  Currently the relationship between the Florentines and US students could be considered at the lowest point in those 50 years.  We believe that this is rooted in a lack of creative engagement opportunities with the city and that there is no better time then now to explore this issue.  With the increasing number of US students studying abroad, Florence offers a perfect opportunity to explore healthy, creative and productive ways for connecting them to our international neighbors, and awakening them to world issues with resulting benefits for the local community, the students, and for those they interact with in the future here at home.
Florence has a relatively new administration with a very forward-looking viewpoint for its future.  This offers The Global Theatre Project the opportunity to positively design its programming and projects in partnership with the city and to look at what is created in Florence as a model for replication in other cities where US students travel and impact the local population.
The Global Theatre Project seeks visionary cultural, educational and global issue partnerships to build upon that foundation in projects aligned to our mission.  Please contact us if you are interested in discussing the possibilities of collaboration and/or partnership.
The first project, Global Voices, in partnership with the University of Texas at Austin took place in May 2011.
The next scheduled project, An Explorer's Desire, will take place in fall 2012 as a collaboration between the cities of Florence and Los Angeles, CA.  A new piece of collaborative work will be created honoring the explorer, Amerigo Vespucci, and exploring the issues of immigrant experience in these two iconic cities.
For further information please contact us.