ON MARCH 25th, 2014
17 theatres around the globe brought attention to the country of Belarus and the question of societal censorship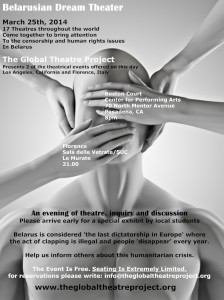 In Los Angeles we were hosted at the Boston Court Center for the Performing Arts, for an evening of theatre, inquiry and discussion with performances of original works written by international playwrights to bring attention to the situation in Belarus.
Belarus is considered 'the last dictatorship in Europe' where people 'disappear' every year.  Although the world political leaders have mostly ignored the human rights and censorship issues, the artists have taken up the call to bring attention to this situation by educating as many people as possible with multiple international events on March 25th.
Following the performance we shared a sample of the work of our Creative Corps students in response to this issue followed by a brief discussion with the audience.
To learn more about Belarus' history and the issues, please click here.
To learn about the human rights infringements recorded by Amnesty International click here.
Belarusian Dream Theater Cast and Crew:
Producing Director: Larry Minion
Director: Doug Tompos
Scenic Designers: Lechetti Design
Cast: Jerry Hoffman, Reena Dutt, Bruce Nozick, Marc Crumpton, Alessandra Bonetti, Jane Macfie, Dexter Masland, Judith Scarpone, Lindsey Beeman, Randy Thompson
Short Plays written by:
Under Protest: David Williams
See Him?: Jacob Juntunen
Portraits: Jez Broome
Article 119-1: Aurin Squire
Alena's Boy: Anna J. Rogers
No One Gives A Clap: Jake Rosenberg
Welcome To Belarus: Rex McGregor
Belarusian Dream Theater
Time: 8pm
Location: Boston Court Performing Arts Center, 70 North Mentor Avenue, Pasadena California (directions)