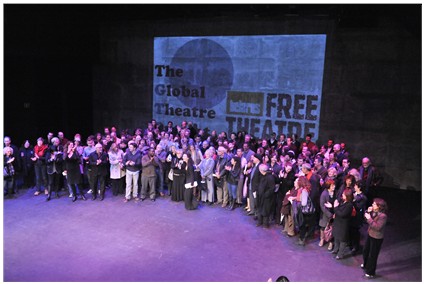 As a part of our Benefit Gala, The Global Theatre Project initiated a relationship of collaboration and support with Belarus Free Theatre in their campaign to bring awareness to the situation of tyranny, censorship and oppression in their country.  A performed reading of the play 'Being Harold Pinter' starring James Cromwell, Ed Harris, Lily Knight, Eric Pierpoint, John Sloan and Tessa Thompson was directed by Bari Hochwald and presented at Los Angeles Theatre Center.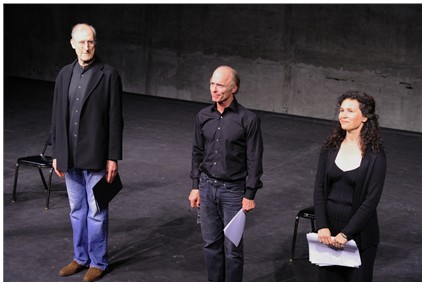 James Cromwell, Ed Harris and Artistic Director Bari Hochwald
The Global Theatre Project's intention is to raise the awareness of our artists, students and audiences about Belarus so that Belarus Free Theatre (currently in exile in London) can go home without threat of governmental reprisal.
Please take the time to learn more about the situation in Belarus by watching the videos and following the links below.  This small theatre company has done an incredible job of raising global awareness to the horrific situation in Belarus.  We stand with them in solidarity.
Since 19 December 2011, Lukashenko´s government has arrested and/or assaulted students, teachers, rival political candidates, journalists, and artists–including members of Belarus Free Theater, an independent theater company based in Minsk that has been fighting for democracy in their country since 2005, which has been called "the last dictatorship in Europe".
Links to information on the situation:
Natalya Kolyada's statement upon arriving in New York:
http://www.youtube.com/watch?v=Jg3erf2BFDE
New York Times Article:
http://www.nytimes.com/2011/01/05/theater/05company.html?_r=1&scp=3&sq=belarus%20free%20theatre&st=cse
The rein of Lukashenko over Belarus:
http://www.thedailybeast.com/articles/2014/01/28/forget-kim-jong-un-china-s-new-favorite-dictator-is-belarus-s-aleksandr-lukashenko.html
How to learn more:
www.freebelarusnow.org