To stay updated on all upcoming projects and opportunities please  join our mailing list or to support us please make a donation.
A Few Words From Students Of Creative Campus 2006-present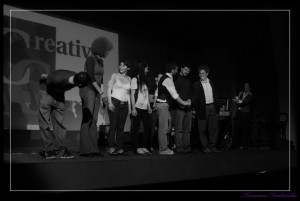 Creative Campus afforded me a sense of greater responsibility for the city of Florence.  Working on these projects, I know that I was helping to create better relationships between the native Florentines and the international presence in Italy.  It opened my eyes to the unique and often tragic relationship between Florentines and American students.  Working with Creative Campus, I felt as though I was representing my country in a positive light while interacting with more Italian students and families.  It was a pleasure to experience bilingual theatrical events in an internationally mixed company, and learning from Italian actors, musicians, and an array of international artists taught me a lot about the universal power of the arts.  It was perhaps the most unique and meaningful experience I had abroad, and it was certainly the most unexpected.  Knud Adams, Kenyon College
My time in Florence would have been significantly different without Creative Campus. It gave me something to do when there wasn't any other options besides going out to a pub. It gave me an opportunity to become involved with the Florence community in a way I never imagined. I became more cultured through this experience. The biggest thing I learned was the capacity I had of being a leader of some great events that affected the community in a positive way. The confidence I gained and skill sets I developed throughout my involvement has already impacted my life back home. I took a job over the summer involving change here in America – working towards a clean energy future. In a matter of three weeks I have gone from canvasser to assistant director of an office which raises thousands of dollars a week towards a cleaner environment. The work I am doing is impacting our future. Without the skills that I developed from my experience with Creative Campus, I am not certain I would have the same amount of confidence and skills necessary for this. I feel like I can do anything that I put my mind to. This mindset did not exist in me before my experience in Florence.  Jessica Roberts, Palazzo Rucellai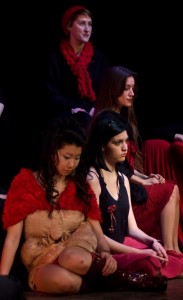 The things I have learned could not have been taught in a classroom. I learned a great deal about myself as a person, like who I want to be and what message do I want to give others about myself. It kept me busy and happy in times where staying in and feeling sad were creeping around every door. Its easy to become closed off in a very different country in a time when you are scared and homesick and culture shocked.  My experience will definitely help me in dealing with others, group work as well as individual work, community service, and communication skills which I think is the most valuable thing I have learned.  Madeline Green, Palazzo Ruccellai
"I would say the most valuable reward has been an improvement in my networking skills, and the creation of a small but strong network of friends here in Florence. I was forced into the deep end, meeting strangers from a different country.  This networking – both the skills needed to accomplish it and the actual construction of relationships – is absolutely the greatest benefit of the entire experience.  It has allowed me not only to better understand myself and my surrounding community, but has also facilitated the achievement of one of my first and greatest goals  – that is, full immersion and intensive interaction with the community of Florence.  The rewards – both creatively, mentally, personally and socially – have been greater than I could have imagined.  I discovered a completely different side of Florence and many Italians, while also uncovering new sides of myself and learning more about my own strengths and weaknesses, likes and dislikes than I ever could have learned in a classroom.  Going forward I hope to retain the lessons I've learned and implement them in my life when I return to the states" Allison Silverberg, Syracuse University
I made friends with Italian stude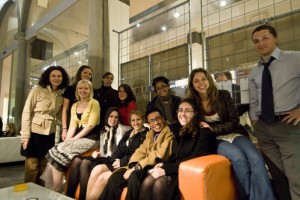 nts, and have kept in touch with them since.  Without this project I had maybe one full conversation with an Italian (other than interactions in shops, etc.). Creative Campus is a rare and necessary program in Florence. It made up at least 50% of my time abroad and provides an easy way to get actively involved in the city and arts culture.  Becky Grajeda, Kenyon College
"I think this was the most important part of my study abroad experience.  I thought working with the community on the Giorno Della Memoria project was a great cultural experience and I visited some places around the city that I may never have visited on my own for rehearsals and performances.  This is a great way to get involved in theatre and in the community, and to meet some great people in Florence."  Catherine Lynch, New York University
"This was a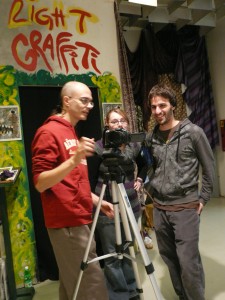 n amazing experience. When one first arrives in their study abroad city, one wants to take it all in. After a while, it may seem like there is nothing else to do. Working with a community based/related program, gives one the opportunity to take part in something important and be a part of the community."  Sherly Dceus, CEA.
As a university student who isn't interested in getting drunk every night, I wanted to do something that was meaningful.  This was an essential role in my life in Florence.  It added an essential layer to my experience in and attachment to Florence and Italian culture because I was able to interact with Italian children, meet with their parents, and just be part of the community.  Dorothy Yang, New York University.
"It was a really neat way to be immersed in the community -people of all ages and from different backgrounds. When students are just taking classes on campus they're mostly surrounded by their English speaking peers from the same university, but this experience gave me the opportunity to meet people living in Florence which was something I was looking forward to!" Amy Sheehan, Richmond University