'. . . [by]. . . expanding vital people-to-people programs, including exchanges of scholars, students and cultural institutions . . . [we can]. . .  make the best of our thought and culture available abroad. . . '
From 'Intelligent Design: How To Change America' by William Galston, Senior Fellow of Governance Studies at the Brookings Institute
With the end of the cold war there was a shift in the priorities of the United States with regards to cultural efforts.  One effect of that was the closing of cultural institutes and libraries abroad which left Hollywood film and television to be the default representatives of our culture.  Concurrently, during the last ten years there has been a 130% increase in the numbers of students sent to study internationally.   At this moment in time the US has a renewed relationship to cultural diplomacy as a valuable tool for building healthy international relations.  However our youth, who are in direct engagement with international communities, are falling sadly short as 'ambassadors'.(1)  These two facts now offer both a serious challenge and an enormous opportunity to create a form of cultural and educational engagement to our global relationships.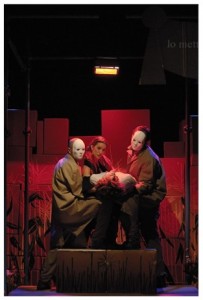 The Global Theatre Project has been created to share our tradition of collaboration, organization, community outreach and educational processes globally as representatives of the authentic nature of our culture.  What we propose is a new model for artistic and educational international experiences which:
Allow the students and professional artists involved to expand as artists with their international counterparts
Act as cultural ambassadors with the communities in which they are working
Use theatre arts as the core art form because of its community-building and collaborative nature.
The United States needs a policy of cultural engagement abroad which includes our students and connects our communities actively.  The Global Theatre Project looks to collaboratively participate in fulfilling a critical aspect of that need.
(1)     NPR, March 2008:  Study-Abroad Students Gone Wild in Italy? by Sylvia Poggioli