Of Rape and Strike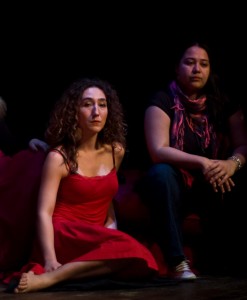 In 2008 we decided to participate in the global VDay initiative created by Eve Ensler.  Bringing together over 40 US and international students, community members and theatre artists we created 6 events throughout the city which brought attention to the issue of violence against women.  There were exhibits, readings and children's puppet shows.  The major centerpiece of the week was a production of Ms. Ensler's 'The Vagina Monologues' which we performed in Italian and English with 28 women from 8 different countries.  The majority of whom were Italian and US university students.
The mission behind this project, raising money and awareness to eliminate violence against women and girls, was an easy one for everyone to stand behind.  But it was the creation of the play, the delving into the emotions, the building of a community that was going through a creative process, which solidified a group of people who never would have met, let alone spent this type of rich and valuable time together.  Some of the women spoke both languages, some only one.  But bonds were made regardless and a common commitment to creating and then sharing their work was palpable.
This event did something else however, it brought US students into relationship with the Florentine and international expatriate community.  It helped erase some of the perceptions about American students so deeply held in Florence.  There was respect for the girls which was a new experience for many of the adults of the group.
On closing night, after the performance, the set was being struck.  Everyone was in the theatre and the lobby packing up and working together.  It was 1am.  I was in the lobby packing a box when a student came up to me:
"Bari, there is a girl in the piazza with a guy and he is trying to kiss her.  She is drunk."
A few of us went to check out the situation and, indeed, there was an American student with long blonde hair, the typical very short skirt and very high heels being slowly dragged into the alley by a man in his 30's.
We chased him away, grabbed the girl and brought her into the lobby.  We would have sat her into a chair, but she was too drunk to wait for that.  She slid to the floor unable to say her name, unable to hold up her head.  Her wallet had no ID.  I had seen girls this drunk before.  It is terribly common in Florence.  And terribly dangerous for them.  They drink like they are on an extreme sport team for alcohol consumption, then they loose all their senses and they loose something else…. control of what happens to them.
This one was lucky.  She was saved.  This time.
And who was she saved by?  American students in Florence at 1am doing something quite different.  Striking a set with a community of residents who respected them and came to hold affection for them.  People who built something together of value and made an impact together in the community.
We all stood over this girl with no name who was blurting out her inner chaos to us in inarticulate phrases and I thought, 'how ironic.'  Here we were: myself, American students, Italian actresses and the theatre manager staring down at the sterotype.  Until this project came into their lives this is exactly how the actresses and theatre manager thought all Americans behaved.
But now they knew better.  Now they had the experience to break a stereotype.  They could never have a conversation again with their friends or family which went 'all American students disrespect our city and don't care about other cultures.  They are all so self centered.  They all come here to drink and not to learn.'   They couldn't have that conversation without their new response which would go something like: 'No, not all are that way.'
Because, as we stood over the inebriated lump on the lobby floor, we knew she was only one person with a problem.  Not 'all' of anything.  So we called for help, poured her into a cab home with her roommates, and went back to striking the set.